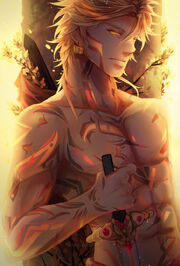 Leone Lionel Maxima is a member of Riot and the current head of the Maxima clan of Sacred Beasts. He shares lineage with the fabled Nemean Lion and several Nature Deities in the form of lions. He's considered Riot's Ace in the Hole because of his combat abilities.
Leone was born into the Maxima Clan as the son of the then Clan Leader, Leora Leone Maxima, and her mate, Leo Maxima. He spent the first few years of his life learning the rules of the clan, growing accustomed to his ability to transform and having mostly carefree days. When he turned ten, Leone was sent to go through the clan's coming of age rite, a trial that also decided who would become the next Clan Leader. The trial was difficult and trying, but Leone was the first to realize that the trial required teamwork to complete, that raw power alone would not allow the trial to be completed. With the cooperation of his peers, Leone was able pass the trial with all of the others, finishing last to make sure that no one was left behind. Because of this, Leone was chosen to be the next Clan Leader, having proven that he cared about more than himself or victory.
By Age fifteen, Leone was nearly ready to succeed his mother as Clan Leader, but was sent to accomplish a task in the mountain range near the clan's territory: he was to find a deserter of the clan and return them. Not knowing that this was a trap set up by Anti-Myth Sentimists, Leone investigated the area of interest only find himself caught in an ambush. Surrounded, Leone was forced to defend himself and soundly defeated his attackers, only to realize that the rest of his clan was possibly in danger. Rushing out of the mountains, Leone made it back to his clan's territory, only to find that many of the people were injured, one in particular being his mother. Seething with anger, Leone awakened part of the dormant power within himself and turned into the name sake of his clan, the Leos Maxima, a lion wreathed in flames and heralded by a grave threat. In this form, Leone cut through the ranks of the attackers before finally driving them off and returning to normal. Shortly afterwards, Leone was named Clan Leader and told to go on a journey to master his power by the Clan Elders.
On his four year journey around the world, Leone met many people and fought just as many, having come to enjoy the excitement of a battle against strong opponents. One such opponent was Arkyle Linen, a teenager around his age that wanted only to grow stronger and seek revenge on a certain criminal. Seeing this as an opportunity, Leone challenged Ark to a battle of which there was no victor, even after Ark had transformed into his massive Kaiju form. Shortly afterwards, the two were forced to work together to defeat a group of people who wanted to use them both as slaves and fuel sources for an Anti-Myth Containment Weapon, the Legend Cannon. It was during this time that the two developed the start of their brotherly bond, having fought against then beside each other in less than a few hours. The battle would go on for another day and a half, culminating with the destruction of the Legend Cannon and a swift encounter between Leone and Entegris, a woman of the Lumina Clan, the natural enemy of the Maxima Clan. Not long after this, Leone decided that he would help out Ark, his primary reason being to fight strong opponents.
Personality
Edit
Leone is hyperactive and spirited, having a bubbly personality. He is trusting and considered to be overly kind, but caring nonetheless. He cares nothing about the concepts of good or evil, to an extent, so long as he can fight strong opponents.
When serious, Leone wises up and lets logic direct him as opposed to emotion and energy. While not the brightest member of Riot, Leone is far from stupid and is rather reserved with his observations rather than blatant and obnoxious. Generally Leone reports any discovery he makes when he deems a situation able to handle it or respond easily to it.
Angry Leone is rarely seen, but it is very much implied that an angry Leone could knock Ark out of any of his lesser transformations. So far Leone has only gotten truly angry twice, once when his mother was hurt by Anti-Myth Sentimists and again when he met Entegris.
Appearance
Edit
Leone is tall and muscular, with wild blonde hair and eyes the color of the sun. He has a tan complexion from years in the sun and golden tattoos made by clan magic that denotes his status as clan leader. He wears beige and bronze pants of an odd origin and style designed to allow for a tail. He also wears golden anklets and foot wrappings along with silver and gold bracers able to appear and change forms at his command. On very rare occasions, he wields the sword of his Clan, Sacred Flame.
Relationships
Edit
Ark and Leone are like brothers. It's difficult to figure out how they became as such in the span of hours, but it could be assumed that they held a mutual understanding of one another after their city wide brawl.
Leone and Lucia get along well, but both think that the other is a bit imbalanced. Leone feels that Lucia is too rigid, while she feels that Leone is too reckless, the common consensus on his behavior.
Patrikolos is like an uncle of sorts in Leone's eyes. He causes the older man all sorts of trouble, much to the latter's chagrin, but they understand each other well enough.
Leone and Sol are especially good friends, but Leone often harps on him for being a hypocrite to Ark.
Leone respects his mother as both a Clan Elder and as he should his mother. The day she was injured by the surprise attack on the Maxima Clan was the day his dormant power awakened.
Leone greatly respects his father, though he finds his overly laid back nature in any situation to be somewhat nerve wracking at times
Beyond the dislike for one another as natural enemies, gauging Leone and Entegris' relationship is difficult. Anytime they meet, Leone spites the Scion of the Lumina Clan while she teases him before they brawl.
Abilities and Skills
Edit
Fire Manipulation
Edit
Leone has a great deal of control over fire, so much so that he can heal injuries and apply other effects to them.
Sacred Flame
Edit
Leone can create a holy flame that both repels misfortune and greatly damages those weak to divine power.
Cosmic Flame
Edit
Leone can create a multicolored flame of constantly rising temperature that burns- rather melts- through all things that get too close to him.
Healing Flame
Edit
Leone can heal injuries with a flame that feels entirely lukewarm. Comparatively speaking, these flames are as strong as diluted Phoenix Tears, but far less rare.
Flame of Life
Edit
Leone can create a more powerful restorative flame that can even restore the recently deceased to life so long as the person revived did not die of disease or natural causes.
Star Fire
Edit
Leone has control of flames, really super heated plasma, that reaches and surpasses the temperature of the sun depending on the color. The "flames" range from bright to bright blue and have the same characteristics of fire in terms of movements.
Primordial Fire: Phlogeston
Edit
Energy Manipulation
Edit
Transformation
Edit
Prime Body
Edit
Leone's body, and all extensions thereof, have reached and stayed at their peak since he has achieved it, granting him the following additional traits:
Peak Form
Edit
Hyper Durability
Edit
Ailment Immunity
Edit
Fortified Mind
Edit
Celestial Aura
Edit
Bestial Aura
Edit
Beast Instinct
Edit
Battle Instinct
Edit
Beast Mimicry
Edit
Primal Mind
Edit
Primeval Form(Incomplete)
Edit
Restoration Magic
Edit
Fist Mastery
Edit
Lion Arts
Edit
Leone's personal adaptations of skills instilled in him as a child and several custom skills.
Lion Buster
Edit
Panzer Fist
Edit
Panzerschreck
Edit
Beast Fang
Edit
Dragon Fang
Edit
Gnashing Fangs
Edit
Blunt Fang
Edit
Sharp Fang
Edit
Piercing Fang
Edit
Boring Fang
Edit
Crushing Fang
Edit
Spiral Fang
Edit
Drilling Fang
Edit
Double Fang
Edit
Lion's Bite
Edit
Dragon's Maw
Edit
Destruction: Septentrione Unleash
Edit
Ruination: Triangulum Inferno
Edit
Annihilation: Morgenstern
Edit
Breaker: Lion's Roaring Fang
Edit
Weapons and Equipment
Edit
Ignis Aureo
Edit
A set of gold and silver gauntlets that Leone can manifest at anytime. Generally in the form of simple bracers, the weapons can become any type of gauntlet, bracer, glove and fist based weapons. An aspect that remains the same in any form assumed is the fiery aura the weapons emit along with the golden coloration.
Sacred Flame
Edit
A sword only able to be wielded by the Clan Leader and former Clan Leaders. It appears as a bronze sword with burning symbols engraved into it and a gothic lion motif. It has many abilities, but few are known because it is a last resort weapon.
Beast Form
Edit
Transition Form
Edit
Aura Form
Edit
Sacred Lion Form
Edit
Primeval Form(Incomplete)
Edit
Primordial Lion Form
Edit
Ad blocker interference detected!
Wikia is a free-to-use site that makes money from advertising. We have a modified experience for viewers using ad blockers

Wikia is not accessible if you've made further modifications. Remove the custom ad blocker rule(s) and the page will load as expected.